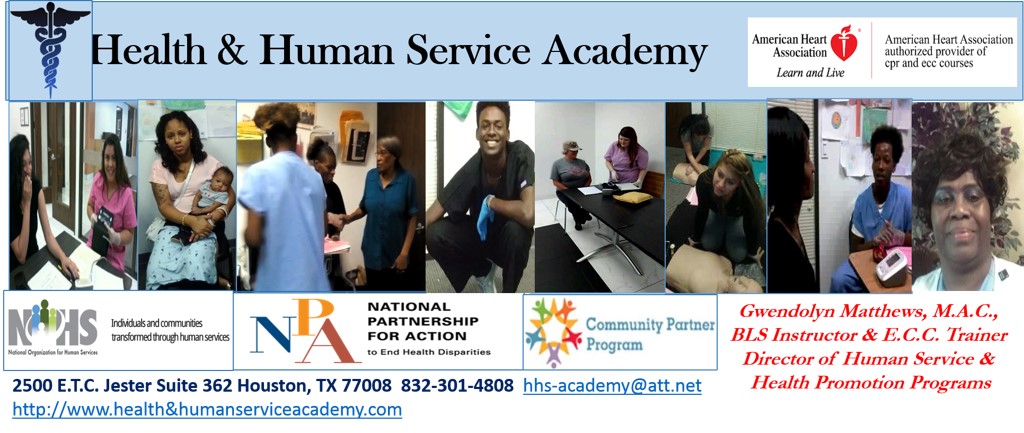 As a Human Service Academy we salute the National Organization of Human Service
NOHS defines human service as uniquely approaching the objective of meeting human needs through an interdisciplinary knowledge base, focusing on prevention as well as remediation of problems, and maintaining a commitment to improving the overall quality of life of service populations. The Human Services profession is one which promotes improved service delivery systems by addressing not only the quality of direct services, but also by seeking to improve accessibility, accountability, and coordination among professionals and agencies in service delivery.
The Health and Human Service Academy integrates the nexus between Health & Human Service to accomplish our objective: Individuals and Communities empowered with resources, education, health, and guidance necessary to improve the quality of life of individuals in their community.
The programs that we advocate and support are instrumental in the delivery of human service that eliminates suffering in America and around the world. The organizations, associations, government, &institutions continue to research best practices that educate an inform human service professionals. The ability to develop and implement programs that eliminate disease, human suffering, and barriers to quality affordable healthcare & human service that saves and prolongs life is the goal of the HHS.
Programs, Research, & Best Practices may have a significant impact on the quality of life of individual worldwide.
The nexus between the human service models of Public Health, Medical, & Human Service allows researchers to use mixed methods to answer the research questions how, what, who, when & why. HHS Academy conducts qualitative research to answer the question how, what, when, where & why to establish or refute theory. Researchers seek to provide research results that maybe evaluated based on reliability, validity, & generalizability applicable to qualitative research. The multidisciplinary teams of professionals use synergy to accomplish the goals of health & human service program around the world. Health & Human Service is worldwide profession with worldwide implications!
Salute to WHO, USAID, & the American Red Cross, International
The 2017 budget for the U.S. Department of Health and Human Service: The Department of Health and Human Services enhances the health and well-being of Americans by providing for effective health and human services and by fostering sound, sustained advances in the sciences underlying medicine, public health, and social services. Human Service practitioners, researchers, and developers create and implement strategies, interventions, and programs that empower clients to live healthy & self-sufficient by providing:
Human Service programs that support families, the elderly, and orphans
Human Service programs that support individuals with disabilities
Human Service programs that support ending homelessness
Human Service programs that support indigent women, men, & families
Human Service programs that support the chronically ill & terminally ill
Human Service programs that support children & infant health and well-being
Human Service programs that support grief counseling, emotional wellness, and mental health
Human Service programs that support employment & employment training
Humanitarian Relief Workers Training & Support
Human Service programs that decrease teen incarceration & juvenile delinquency
Human Service programs that provide intervention and prevention of teen pregnancy
Human Service programs that support parent education, childcare, and early childhood education
Case Managers Resources, Education, & Training
Human Service Managers Resources, Education, & Training
Grants & Funding for human service research
Human Service Professional Seeking Worldwide Employment!
---
Click here http://houstonteensbabyclosetandpantry.weebly.com/